What is Toki?
Toki is a new and fun way for you to have short voice conversations with your friends.
Inspired by short, audio calls of "walkie-talkies," Toki allows you to have such conversations on your mobile without the hassle or need to make a phone call (regular, dialed calls). 
The only requirement of Toki is that both people have the Eyecon app (v 3.0) installed on their cellphone (Android-only). 
 How do you use Toki?  
 There are two ways to start a Toki conversation with your friend.  
In the Eyecon Main Menu, select your friend and select the 

Toki

 icon to start the Toki conversation!

Press the 

Toki

 icon in the upper left side of the 

Eyecon

 app – which will open a special menu that displays only your contacts that have 

Eyecon

. From there, just press on that contact to start a Toki.

 

 How Toki Works: 
Upon press, Toki will immediately try to connect with your friend. If, for whatever reason, your friend is not available, you will receive a message that the connection did not succeed, and your friend will receive a message that you tried to connect. If your friend "accepts" the Toki, you will immediately start a Toki conversation. Press and hold the Toki button in order to talk and let go when you are finished – just like a walkie-talkie! You will quickly learn how to use Toki and converse. 
 Toki Party! 
You can also Toki with groups!!! Simply press the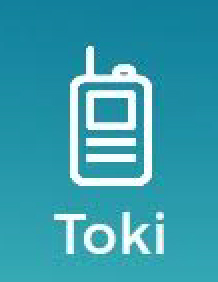 button and add up to 9 people to the conversation.